Leading EMEA distributor wins award
for a second time in its partnership with leading maker
of devices for frequency control and timing applications
Brussels, Belgium, November 13, 2023: Avnet Abacus, one of Europe's leading interconnect, passive, electro-mechanical and power distributors and a regional business unit of Avnet (NASDAQ: AVT), has won the EMEA Distributor of the Year Award from Abracon, a leading provider of frequency control, timing, power, magnetics, RF and antenna solutions.
Based outside Austin, Texas, Abracon serves world-class companies across a wide spectrum of industries and markets, including data communications, transportation, industrial, medical, consumer, and aerospace and defence. The manufacturer helps customers meet their time-to-market demands by providing unmatched product solutions, technical expertise and service excellence.
"We are incredibly proud to be recognized as Abracon's fastest growing distributor, thanks to our excellent performance in 2022," commented ; Rudy Van Parijs, President, Avnet Abacus. "This achievement – and winning the award for the second time, which makes it even more special – is a demonstration of the success of our ongoing partnership, and we look forward to our continued joint success into the future."
"Our respective companies have enjoyed excellent collaboration over many years," said Roberto Politi, General Manager EMEA, Abracon. "Our partnership is based on our comprehensive and innovative product portfolio combined with market knowhow and world-class support from Avnet Abacus to support more customer designs for a faster growth in the market".
PHOTO: At Avnet Abacus' offices in Poing, Germany in August 2023 (L-R): Sara Ghaemi, Director, Technical Development, Avnet Abacus; Roberto Politi, General Manager EMEA, Abracon; Rudy Van Parijs, President, Avnet Abacus; Matthias Schwendemann, Vice President, Product Management, Avnet Abacus.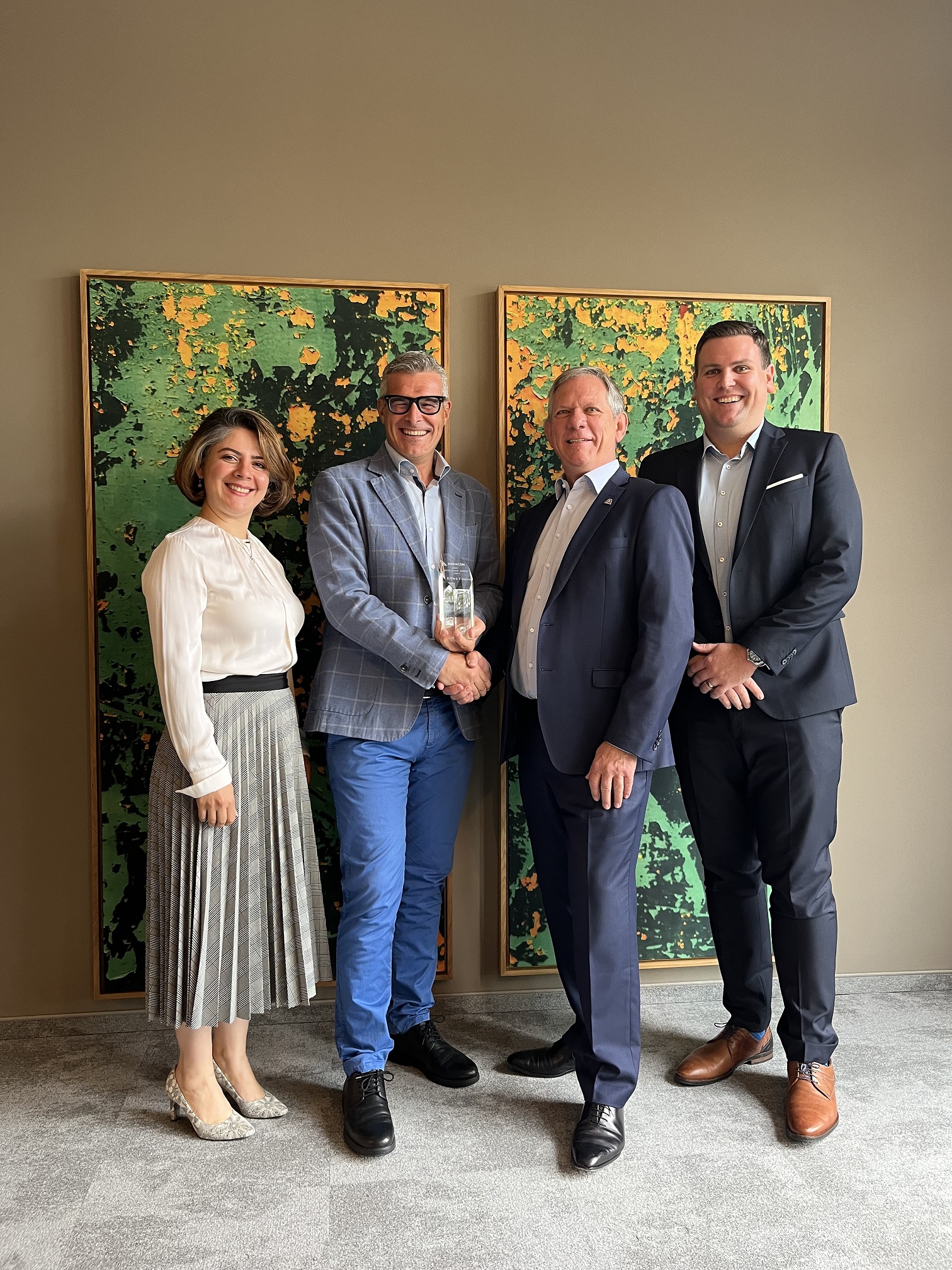 ---
About Avnet Abacus
Avnet Abacus is a pan-European distributor committed to supporting customers from design to fulfilment. Avnet Abacus' exceptional linecard features globally recognized manufacturers and an extensive product range that includes interconnect, passive, electro-mechanical, power supply, energy storage, wireless & sensor products and solutions. Avnet Abacus is a regional business unit of Avnet, (NASDAQ:AVT), with European headquarters in Belgium (Avnet Europe BV). For more information, visit: www.avnet-abacus.eu
About Avnet
Avnet is a global technology solutions provider with an extensive ecosystem delivering design, product, marketing and supply chain expertise for customers at every stage of the product lifecycle. We transform ideas into intelligent solutions, reducing the time, cost and complexities of bringing products to market. For nearly a century, Avnet has helped its customers and suppliers around the world realize the transformative possibilities of technology. Learn more about Avnet at www.avnet.com.
Legal Disclaimer: All brands and trade names are trademarks or registered trademarks and are the properties of their respective owners. Avnet disclaims any proprietary interest in marks other than its own.